American Heroes: David Isham – National Roper's Supply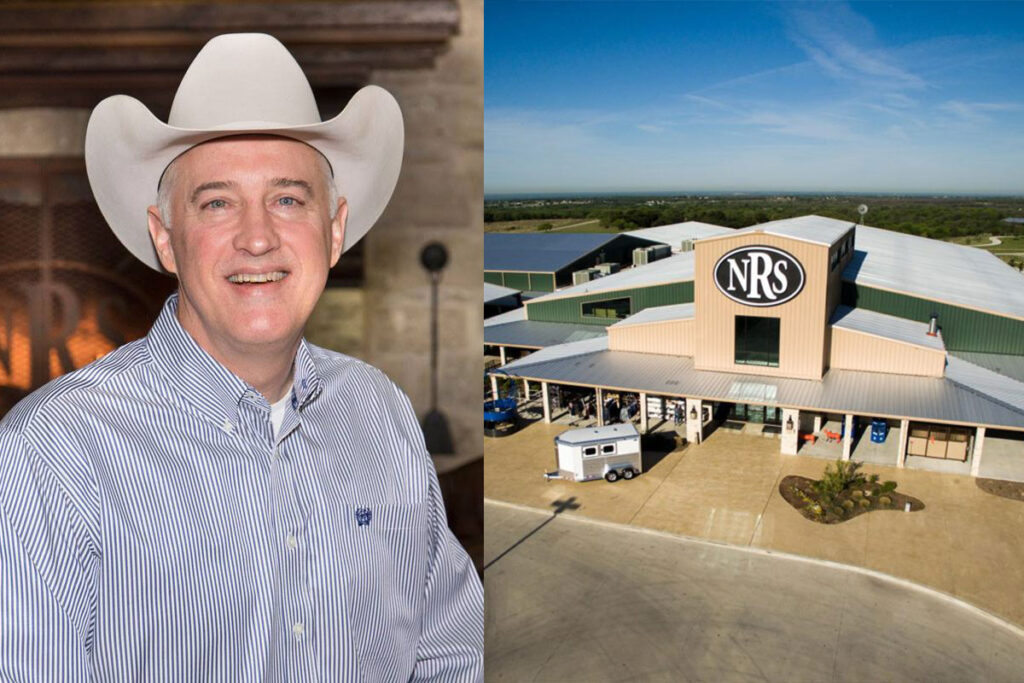 David Isham is the owner of National Roper's Supply. What started out as a small, single location western store in Decatur, Texas for David, has evolved into a major brand and business that everyone in the roping industry recognizes. From opening four major retail stores and numerous trailer dealerships across the country, to building and operating a successful training and event center and ecommerce store, David has turned National Roper's Supply into an internationally recognized business.
The idea behind NRS started in 1988. David was working for an accounting firm in Fort Worth after receiving his degree from Abilene Christian University. "I was a suit-wearing accountant by day, and a team roper junkie by night," jokes David. "I would put my suit on and go to the office everyday. When I got home, I would practice [roping] and go to three to five ropings or rodeos every week. I was just eat up with the sport of team roping."
David has an accounting degree and a passion for team roping and the western industry. Due to his love for the western lifestyle and the people and horses involved in it, David knew he wanted to be a part of it no matter what. After discovering the small western store in Decatur, Texas that had been owned by the same family for over 15 years was coming up for sale, David negotiated a deal where he was able to purchase Bryan's Western Wear and on February 1, 1989 he took over.
"I was very lucky that there was an older lady, right at retirement age, that agreed to stay on and work for me and help with the transition. She was a key employee at Brian's, so her help was welcomed," says David. "I always say Mildred taught me everything I know about the western retail industry. Mildred worked for me for almost 20 years… until her late 80's."
Having grown up in Decatur and knowing everyone since his early childhood, David decided to name the store, David's. He realized later on though that he wanted his reach to extend much farther than his hometown of Decatur. So, in 1993, David coined the name National Roper's Supply [NRS].
Since then the NRS brand and business has grown exponentially. Though that growth includes a successful ecommerce platform, David still believes in producing a physical product catalog every year. He says that flipping through those dreamy pages full of western products galore can take you places. Customers who receive the catalog not only learn more about the NRS story, but they're also introduced to the expanse of western-related product that the retailer's Texas and Arizona stores carry. If customers can't visit one of the NRS retail locations, they're encouraged to order online at NRSWorld.com.
When asked about his accomplishments over the years, David s ays, "My success has come from partnering with wonderful brands in our industry and working with them and looking for win-win situations." He wants customers to know that products NRS carries are products he personally trusts. For instance, when you see NRS stamped on the inside of an American Hat sweatband sitting on the hat bar at their flagship store in Decatur, you know it's because David personally believes in the American Hat Co. brand. "I'm not big on putting my brand on just any kind of product. I want to partner with great brands and those who manufacturer the best product in this industry."
David started the idea and concept behind NRS at a small mom-and-pop store in a strip mall. He answered every phone call that came to 1-800-GO-ROPIN and even clipped together his own images for different ads. Now, with four retail locations, a guest ranch, a training facility and major ecommerce platform, his daily duties have changed quite a bit. But after 30-years of being in business, he still runs the same family-owned business and horseman-oriented operation that he originally set his foundation upon. David's grit, long-term vision, and commitment to bring that vision to life are the reason that National Roper's Supply is what you know it as today.