American Hat Company and PBR Announce Partnership 
Authentic Pairing Expands on Success with PBR Athlete Endorsers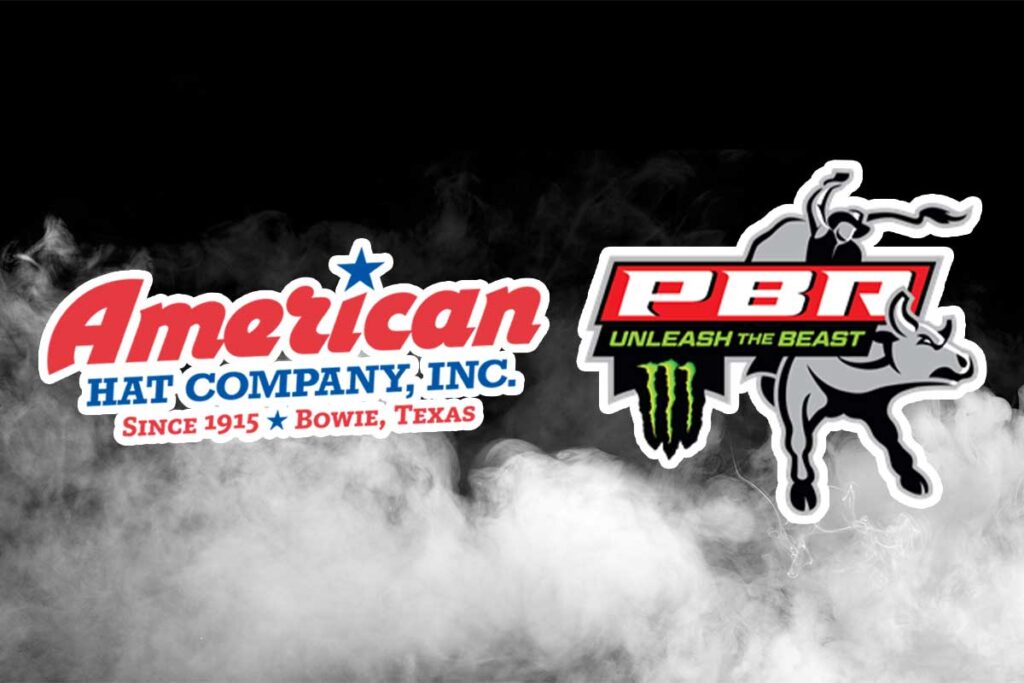 BOWIE, Tx. (June 7, 2021) – American Hat Company and PBR (Professional Bull Riders) today announced a new partnership in which American Hat Company becomes the official cowboy hat of the elite Unleash The Beast, weekly featuring the Top 30 bull riders in the world going head-to-head against the rankest bucking bulls in the country.
Through the partnership, which includes digital signage and concourse space at Unleash The Beast events, 10 members of the PBR elite tour's team, including bullfighters and announcers, will now wear American Hat Company cowboy hats. Additionally, PBR CEO and Commissioner Sean Gleason will now exclusively wear American Hat Company cowboy hats.
American Hat Company will also be featured on PBR's rapidly growing social channels, including as the official brand partner of a National Day of the Cowboy post, celebrating the stoic, hard-working icon that is the American cowboy.
"We have loved seeing our cowboy hats and patches on the PBR cowboys for the past several years. We thought it was time to step up and make that relationship official and to be able to contribute even more to the sport and heritage we love," said Keith Mundee, president of American Hat Company. "We are looking forward to being a part of PBR and reaching new people that have the same love for the cowboy lifestyle."
"American Hat Company is an iconic American-made brand. They produce the gold standard of cowboy hats and represent the cowboy values PBR was founded upon and celebrates to this day," said Sean Gleason, Commissioner and CEO of the PBR. "This is about as natural and authentic as a PBR brand partnership can get, and I am personally eager to wear my new American Hat Company cowboy hats at our events."
Prior to its official league partnership, American Hat Company has long been a supporter of Western sports.
The company's deep roster of sponsored athletes and personnel currently includes 35 bull riders, such as two-time PBR World Champions Jess Lockwood and J.B. Mauney, reigning World Champion Jose Vitor Leme, and various legends, stock contractors, announcers, bullfighters, and entertainers, such as 10-time PBR Stock Contractor of the Year Chad Berger and PBR Co-Founder and Livestock Director Cody Lambert.
American Hat Company cowboy hats are made in Bowie, Texas, using many of the same processes from more than 100 years ago. From each felt hat being hand finished, to the brim on every straw hat being cut and sewn by hand, by hand-making their hats, American Hat Co. ensure the quality of each hat that is boxed and sent to their customers.
About PBR (Professional Bull Riders):
PBR is the world's premier bull riding organization. More than 500 bull riders compete in more than 200 events annually across the televised PBR Unleash The Beast tour (UTB), which features the top 35 bull riders in the world; the PBR Pendleton Whisky Velocity Tour (PWVT); the PBR Touring Pro Division (TPD); and the PBR's international circuits in Australia, Brazil, Canada and Mexico. PBR's digital assets include RidePass, which is home to Western sports. PBR is a subsidiary of IMG, a global leader in sports, fashion, events and media. For more information, visit PBR.com, or follow on Facebook at Facebook.com/PBR, Twitter at Twitter.com/PBR, and YouTube at YouTube.com/PBR.