American Hat Named Official Texas Ranger Bicentennial Hat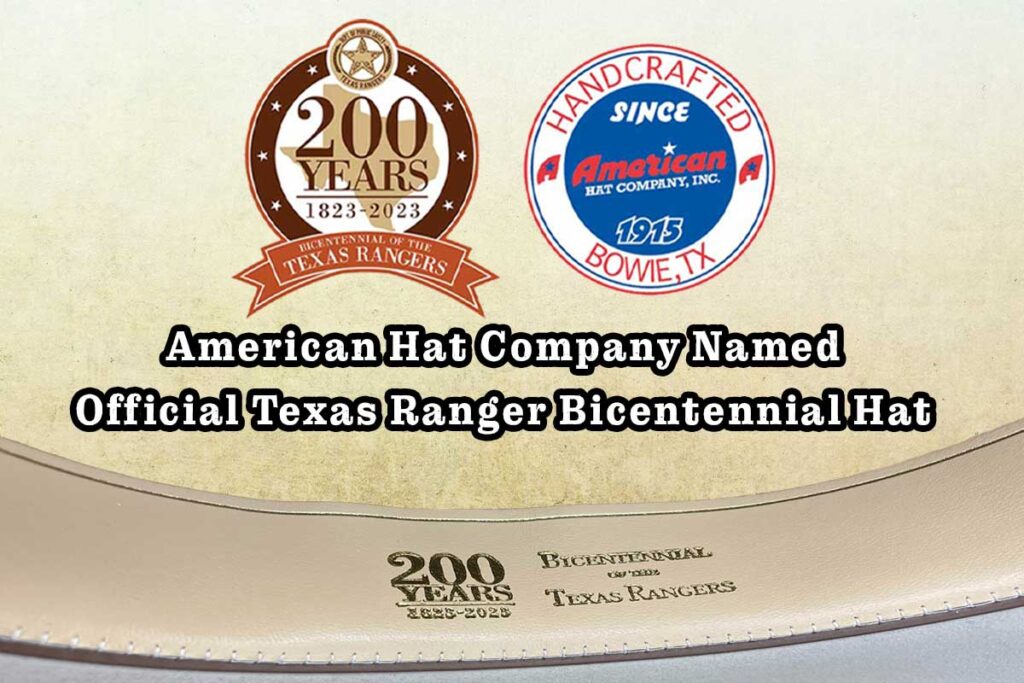 In 2023, the world-renowned Texas Rangers, a Texas Legend and American Heritage will mark their 200th anniversary of service, the Texas Ranger Bicentennial. The Texas Public Safety Commission and the Texas Department of Public Safety have appointed the Texas Ranger Hall of Fame and Museum, in Waco, Texas, the Texas Department of Public Safety Foundation, and the Texas Ranger Association Foundation with commemorating, coordinating, and promoting the 200th anniversary for the Texas Ranger Bicentennial. 
American Hat Company was picked as the obvious choice to be a part of this Texas history and to join the Texas Ranges in this once-in-a-lifetime commemoration. Wednesday, March 2nd, 2022 marks the Official Texas Ranger Bicentennial Kickoff and Press Conference.
American hats are made in Bowie, Texas, and use many of the same processes from over 100 years ago, from each felt hat being hand finished, to the brim on every straw hat being cut and sewn by hand. By hand-making our hats, we can ensure the quality of each hat that we box and send to our customers.
The Texas Rangers have performed under five national flags: Founded under Mexico in 1823 by Stephen F. Austin, they served the Republic of Texas 1836- 1845; the new US State of Texas 1845-1861; the Confederate State of Texas 1861- 1865; and as a US State again from 1870-Present. Native Americans, Tejanos, Anglo-Europeans, African Americans, and Asian Americans have served in all ranks from Ranger to Chief. Women were first commissioned in the Texas DPS in 1973, and the first female was promoted as a Texas Ranger in 1993. Since 1935, the Texas Ranger Division has been a major division within DPS with lead criminal investigative responsibility for the following: major incident crime investigations, unsolved crime/serial crime investigations, public corruption and public integrity investigations, officer involved shooting investigations, and border security operations. It is comprised of 234 full time employees; including 166 commissioned Rangers and 68 support personnel; including administrative staff, Border Security Operations Center, Joint Operations and Intelligence Centers, and the Special Weapons and Tactics team.