American Heroes: James Cavender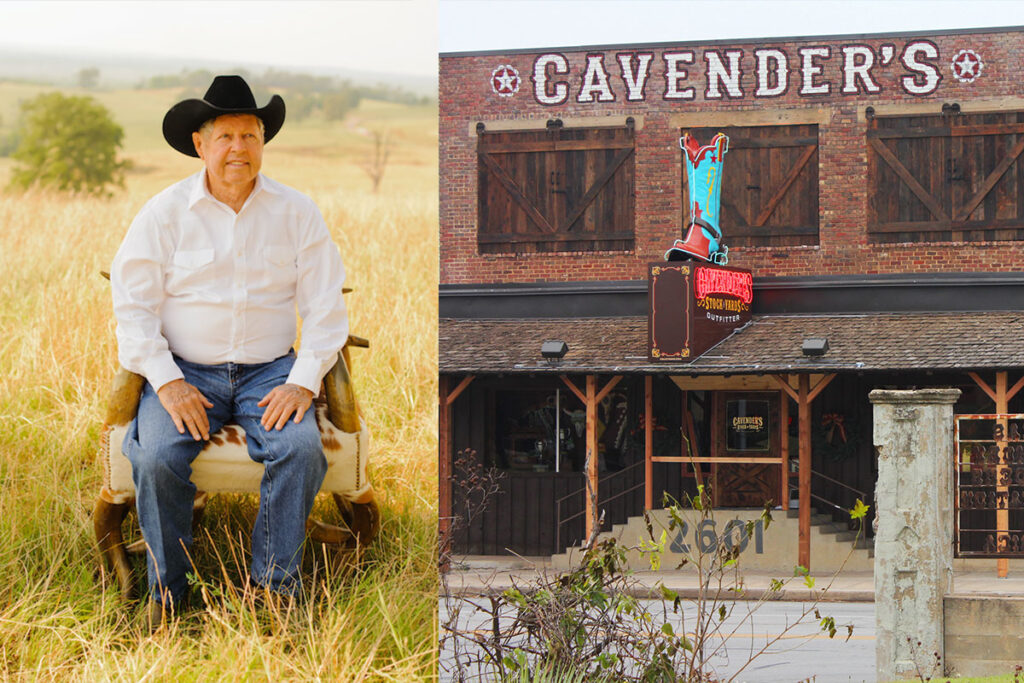 James Robert Cavender was born in Idabel, Oklahoma in 1931. Growing up during the post-Depression era, he spent his time hunting, fishing, riding his horse and working. His parents, "L.O." and Loyce were diversified business people who ran an appliance store, a gas station and a distributorship and then later a motel. The Cavenders were also in the cattle business. After he graduated from Idabel High School, James attended Kemper Military Academy and then Oklahoma A&M (known today as Oklahoma State University) where he studied agriculture. While in college, James began dating Patricia Whitten, also from Idabel. In 1952, he graduated from Oklahoma A&M with a Bachelor of Science in Animal Husbandry. But with the Korean War going, he had to leave early to join the U.S. Air Force, and wasn't able to attend his graduation ceremony. James served his country as a First Lieutenant in the United States Air Force.
(In December 2017, James was finally able to walk the stage during the Oklahoma State University graduation!)
After his tour of duty in 1955, Pat and James were married and they moved to Dallas where they welcomed the birth of their first child, Joe. Just about two years later, while they were awaiting the birth of their second son, Mike, they move do the small East Texas town of Pittsburg. Elvis Presley was king, rock and roll, bobby socks and burgers and shakes were booming, so James opened a Dairy Mart franchise.
A year into the venture, James, tired of paying the $150 annual franchise fee, changed one letter on the sign and the business became the Dairy Hart. It would become a Pittsburg institution for years to come, providing many a school kid root beer, hamburgers and jukebox tunes. (James maintained his office in the old Dairy Hart building.)
In 1961, the Cavender's welcomed their daughter Traci.
By 1965, after eight years of cooking hamburgers, James hung up his apron for greater challenges. He sold the Dairy Hart and opened his first retail store, "Cavender & Smith's." In the early days the store sold primarily men's and boys' apparel and then later added ladies clothing. In the second year, James' country roots compelled him to do something that would make history. He added three styles of Tony Lama boots (James could still tell you the style numbers and descriptions of these boots), the business was renamed "Cavender's" and a Western empire was born. James kept adding more styles of boots and word spread and people came from miles around.
In 1968, James and Pat's last child, Clay, was born. By the 1970s, James and Cavender's had become well-known in East Texas and James continued his expansion and became the largest dealer of Western boots in East Texas.
By the end of the decade, oldest son Joe joined James and the company with son Mike following soon after along with several key associates, many of whom are still with Cavender's today. Cavender's began its trek across the Dallas/Ft. Worth Metroplex. Today there are 15 stores in the DFW area. By the mid-80s, the company had spread to Houston, where it currently has 11 stores. Cavender's gained national recognition when Justin Boot Co. awarded Cavender's their Number #1 Account and Cavender's became the highest volume boot retailer in America. Cavender's was then awarded the first ever "Western Retailer of the Year" presented by the Dallas Western Market.
During the 1980's, James attended Nocona Boots National Sales meeting to receive their Number #1 Dealer in America award. James was the key note speaker at the end of the conference. Son Mike saw him writing on his napkin and as James told the attendees, "You've said a lot of good things today, but there is still that four letter word that makes it all happen." He opened his napkin and said, "W-O-R-K. You can do all these things, but to be successful you must be willing to work." Hard work was his creed.
After many years, miles and boots James was inducted into the prestigious Western Image Awards Hall of Fame in 1998. In 2015, the western giant celebrated their 50th anniversary with sales, fanfare and a big celebration at one of the Cavender ranches. For more than half a century, the Cavender family's core values of hard work, common sense, authentic merchandise and excellent customer service, continue to guide the business, whether in the store or online. In 2019, the Cavender Family was inducted into the Texas Cowboy Hall of Fame.
All these years later, the company remains family owned and operated. Joe Cavender, president of the company, still personally buys the bulk of the boots you'll find on the shelves and online. Son Clay Cavender developed the Rafter C (the cattle brand used by James and his father since 1945) brand of hats and shirts, and along with his mother, Pat, personally plans the layout and décor for each new store. Son Mike, travels across the nation locating and negotiating arrangements for new stores for Cavender's in 11 states.
The family ethos, so aptly established by James, influences every level of the business. Many of their associates have been with the company for over 30 years. Others grew up in the Cavender's family and have seen their roles grow as the company has grown.
Family members and store associates alike pride themselves in understanding the products they carry. The Cavender family personally owns several East Texas cattle ranches, giving them the opportunity to test every product sold on their shelves.
With 83 stores in 11 states, Cavender's has become a leading Western store for the American South and Southwest. No matter which store you walk into- or if you order online- you can be sure to find the best products in the market and helpful, knowledgeable people to guide you through your purchase process. After all, they know that you Don't Just Wear It, You Live It… something passed down from James Cavender from the very beginning in 1965.